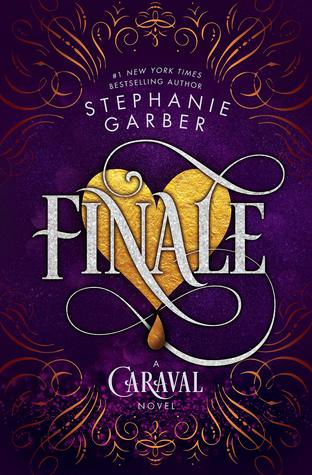 THE TIME HAS COME! I have waited for this day for a long time. I can't believe this series is coming to an end! If you haven't read the previous books, you may not want to read any further. No spoilers here…it just won't make much sense to you.
Thank you Flatiron Books for gifting me an e-copy in exchange for my honest review.
Synopsis from Goodreads: It's been two months since the last Caraval concluded, two months since the Fates have been freed from an enchanted deck of cards, two months since Tella has seen Legend, and two months since Legend claimed the empire's throne as his own. Now, Legend is preparing for his official coronation and Tella is determined to stop it. She believes her own mother, who still remains in an enchanted sleep, is the rightful heir to the throne. Meanwhile, Scarlett has started a game of her own. She's challenged Julian and her former fiancé, Count Nicolas d'Arcy, to a competition where the winner will receive her hand in marriage. Finaly, Scarlett feels as if she is in complete control over her life and future. She is unaware that her mother's past has put her in the greatest danger of all. Caraval is over, but perhaps the greatest game of all has begun―with lives, empires, and hearts all at stake. There are no spectators this time: only those who will win…and those who will lose everything. . .
As it is said, all good things must come to an end. I love that this book is written in both Scarlet and Tella's point of view. I wish the second book was the same! If you have been following my reviews for long enough, it's no surprise that I loved the first book way more than the second book. In fact, a good friend of mine says that she's still trying to get through reading the second book. I hear that quite a lot from people. This book is different! It reads a LOT like the first book which made me so happy! Stephanie has such a talent for detailing her stories so beautifully. I could read her descriptions for days and days. They're just so magical! If you don't like love triangles, then this book isn't for you. I, on the other hand, LIVE for love triangles and just devoured this story. I squealed the entire time. My husband could guess which book I was reading from miles away. It was a wonderful ending to the series in my opinion and I will cherish this story for years to come.
5/5 Stars